Remembering Rolando Estèvez
(1953-2023)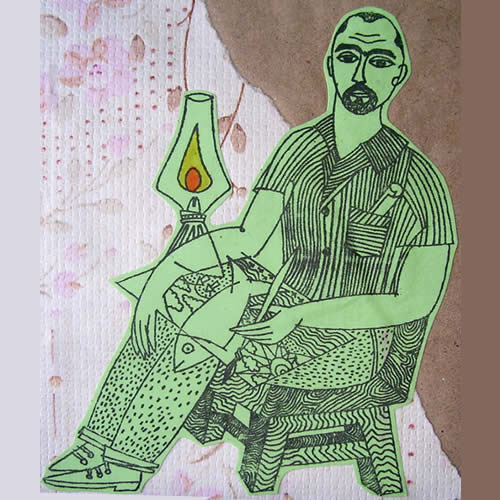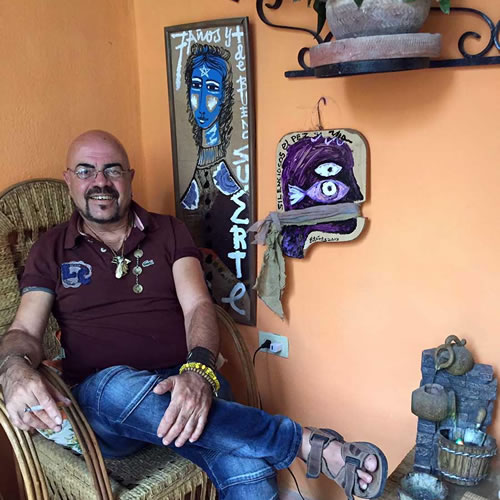 Born in Matanzas, Cuba, Rolando Estévez was a visual artist and poet who worked in multiple mediums, including drawing, painting, installation, performance, stage design, and handmade book design. He taught basic freestyle design and theatre design in Matanzas, where he was a leading promoter and organizer of artistic events and alternative cultural activities. In the U.S., he was frequently invited to give presentations and workshops on design, Cuban art and culture, and to discuss his own work. He visited the University of Michigan, De Paul University (Chicago), Florida International University, Boston University, University of Missouri, University of Houston, Repertorio Español (New York), and the University of Southern California. His work was celebrated with a special issue of Afro-Hispanic Review (Fall 2012) and many awards, including the Cuban National Book Design Award in 2010, the Omar Valdés Special Prize for Theater in 2012, and the Distinción Hijo Ilustre de la Ciudad (Distinguished Citizen Award) from the city of Matanzas in 2012. Handmade in Cuba: Rolando Estévez and the Beautiful Books of Ediciones Vigía, an anthology honoring his work as a book artist, was published in 2020.
Between 1985 and 2013, Estévez created over 500 handmade artist books for Ediciones Vigía in Matanzas, Cuba, which are collected by the British National Library, the Atlantic Art Museum, the Museum of Modern Art (MOMA), the U.S. Library of Congress, as well as numerous universities in the U.S., Canada and other countries in the Americas. At the University of Michigan, the Special Collections Library holds a major collection of these extraordinary books. Starting in 2013, Estévez chose to move toward the production of limited edition as well as one-of-a-kind artist books at his own imprint, El Fortín, which rapidly gained recognition for their unique beauty and cultural poetics.
Ruth met Estévez in Havana in 1994, at a moment when Cuban-Americans who had left the island as children were returning to Cuba, searching for a deeper understanding of their history and embarking on research projects from a diaspora perspective. Estévez and Ruth felt an immediate connection. His parents had left Cuba in 1969 with his younger sister, who was eight at the time. He was fifteen, and being considered of military age by Cuban law he wasn't allowed to leave with them. This was the most traumatic event in his life. He later wrote a poem about how they took him to the movies while his mother packed her bags. Though he could have left ten years later, after his parents settled in Miami, he felt devastated by having been left behind and decided his destiny was to remain in Cuba. His sister never returned and Ruth reminded him of her. He urged Ruth to begin writing in Spanish, which she did. Thus began a collaboration on a range of handmade books, incorporating Ruth's poetry and stories and his beautiful artwork and book designs. Years later, in 2018, when Ruth and Richard visited Cuba together, Estévez met Richard and engaged with his poetry, creating a stunning book featuring his inaugural poems. 
A member of our Advisory Board since the blog began in 2015, Estévez was a strong supporter of cultural and artistic bridges between Cubans everywhere. He had lived through the sorrow as well as the hopefulness of building bridges and understood their importance. His art graced Ruth's original 1995 version of the anthology, Bridges to Cuba/Puentes a Cuba, as well as the twentieth anniversary edition in 2015, and the anthology, The Portable Island: Cubans at Home in the World, from 2008, which sought to understand how Cubans confront their identity as an uprooted people. When we told him about our idea to create this blog, Bridges to/from Cuba, he kindly created original artwork for us to include on the site. 
As he was dying, Estévez still had many dreams. He hoped to return to Ann Arbor to visit Ruth and had ideas for more handmade books. Also being a man of the theater, he had hopes of directing Tennessee Williams' A Streetcar Named Desire. He was looking forward to visiting the Library of Congress, where his "Otra piel para otra entraña/Another Skin for My Insides," a dress made of poems written by Cuban and American women, will be included in a major upcoming exhibit. This dress was made by Estévez to fit Ruth's measurements and was a garment that symbolized another effort to build a bridge through poetry and lived experience. You can read further about this poetry dress and the making of the work at this link:
https://blogs.loc.gov/international-collections/2022/10/rolando-estvez-and-the-making-of-otra-piel/
 Estévez died of complications from cancer in his hometown of Matanzas, Cuba on January 17, 2023. He was 69. We remember him with admiration and love and are proud to celebrate his work on this blog.